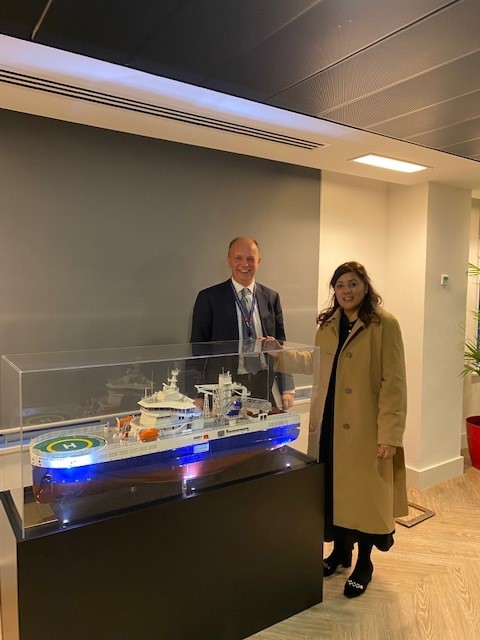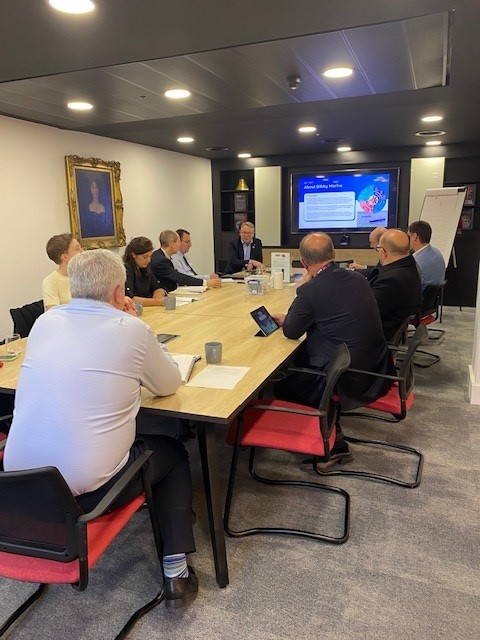 Yesterday (Thursday, 10 November), Bibby Marine was delighted to welcome Nusrat Ghani MP, Minister of State at the Department for Business, Energy and Industrial Strategy to Bibby Marine's headquarters in Liverpool.
As part of the visit, Ms Ghani heard proposals from Bibby and partners for the latest round of Clean Maritime Competition Demonstration funding, CMDC3, an initiative funded by the Department for Transport and delivered by Innovate UK, part of UK Research and Innovation. Sir Michael Bibby, Jonathan Lewis, Bibby Line Group, Group Managing Director and Bibby Marine CEO, Nigel Quinn, then accompanied Ms Ghani on a tour of Birkenhead-based shipbuilders, Cammell Laird, where she met Mike Hill, Managing Director, Cammell Laird.
Nusrat Ghani, Minister of State at the Department for Business, Energy and Industrial Strategy, said of her visit: "Bibby Marine's work on zero-carbon vessels is proof of how the UK's marine sector can lead the way on making ships cleaner, greener and more affordable to operate.
"Through projects like these we are making good on the aims set out at COP27, this week, to decarbonise the sector by harnessing new technology."
Bibby Marine CEO, Nigel Quinn said: "It's been a great pleasure to welcome Minister Ghani to Merseyside. We have been able to showcase the extensive expertise of Cammell Laird and have also had the opportunity to discuss Bibby's steadfast commitment, to accelerate the 2050 goal of developing decarbonised vessels, harnessing the skills we have right here in the UK, in support of the UK Levelling Up agenda.
He added: "At Bibby we believe we have a fantastic opportunity to lead the world in developing and building zero-carbon off-shore support vessels, decarbonising the UK maritime sector, building skills and developing substantial export opportunities.
"This was a great chance for Minister Ghani to see first hand what can be achieved on our doorstep, and we hope this visit brought our vision of a zero-carbon offshore service vessel to life."
Mike Hill, Managing Director at Cammell Laird said: "Cammell Laird was delighted to welcome Minister Ghani to our facility. Cammell Laird has completed some of the most ambitious ship building programmes in recent times and her visit provided an excellent platform to showcase Cammell Lairds world class facilities and capabilities.
"Cammell Laird looks forward to partnering with Bibby Marine and other shipbuilding companies to deliver the new generation of decarbonised vessels, which will help sustain shipbuilding on the River Mersey and inject significant economic value to the people of the Liverpool City Region."